Béatrice Dumurgier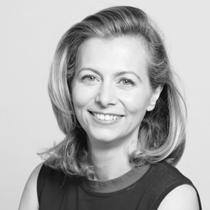 Beatrice started her career at McKinsey & Cie in France and in the US before joining the French Ministry of Finance in 2000 at Paris Club Secretary and Agence des Participations de l'Etat.
She joined BNP Paribas in 2004 where she held various positions: VP M&A & Strategy at Cetelem, Executive Committee Secretary & Chief of Staff of BNP Paribas Group CEO, Chief Operating Officer Retail Banking and member of Domestic Markets Executive Committee and BNP Paribas G100 promoting the shift to digital in retail banks across Europe, Turkey, North Africa and the US, and at last Chief Executive Officer of Personal Investors, the online brokerage Business Unit of BNP Paribas.
She then joined BlaBlaCar in 2019 as Chief Operating Officer, a position that she left early 2021.
She served on Visa Europe and SNCF Mobility Boards.
Beatrice graduated from Ecole Polytechnique, Corps des Ponts & Chaussées and holds a Master of Science from MIT.
She is a member of the Young Leaders program of the French-American Foundation.