Fabrice Dumonteil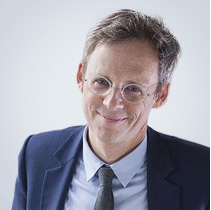 Chairman and CEO of Eiffel Investment Group, managing company of Eiffel Essentiel SLP (co‑founder of Transition)
Founder, Chairman and CEO of Eiffel Investment Group
Former CFO of Neuf Cegetel
Fabrice is the founder, Chairman and CEO of leading French energy transition investor Eiffel Investment Group.
Fabrice founded Eiffel in 2008 and led the spin-off from the Louis Dreyfus group in 2011.
Under his leadership, Eiffel grew its AuM to ca. €3.5 billion across equity and debt strategies and generated €100+ million of retained earnings.
Fabrice currently leads a team of 60+ professionals, of which ca. 20 are dedicated to Eiffel's investment strategies in the energy transition.
Fabrice also participated in Impala's successes in the field of energy transition: Direct Energie, France's leading alternative electricity supplier (acquired by Total in 2018), and Neoen, France's leading independent producer of renewable energy (listed on Euronext Paris in 2018).
Previously, Fabrice served as CFO of Neuf Cegetel where he oversaw the IPO of the group on Euronext Paris in Oct-2006, its M&A strategy with 10+ bolt-ons and its sale to SFR in 2008.
Fabrice has overseen all of Eiffel's energy transition investments since the company's creation in 2008. He is a member of the investment committee of Eiffel Essentiel, Eiffel Energy Transition and Eiffel Gaz Vert and supervised more than 100 investments in this capacity.
Fabrice graduated from Ecole Polytechnique and earned an MBA from Harvard Business School.
Key Skills contributing to Transition's success
Established leadership in energy transition investment
Investments track-record (supervised > 100 investments for Eiffel)
Asset management (with ca. €3.5bn AuM)
Entrepreneurial skills
Listed company CFO experience
Successful track-record of build-up strategy and M&A at Neuf Cegetel
Actively developed some of the sector leaders as shareholder through Impala (Direct Energie, Neoen)
Selected executive experience and board seats